A three-block contemporary edit of boutique shopping, culinary artisans, and creative businesses.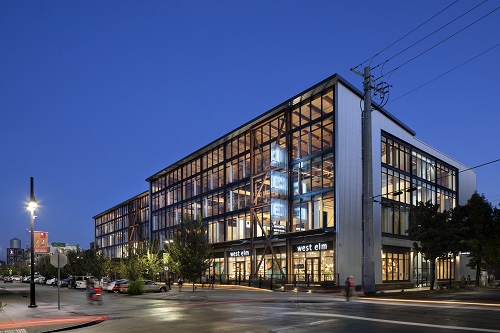 ICE SHOPS
The Ice Shops consist of two buildings with retail on the ground floor and is anchored by West Elm. Other retailers include Title Boxing Club, Device Brewing Company, with Mendocino Farms and Cookie Connection opening soon. Three levels of office above are connected by a glass skybridge. Located right off 16th Street, this block features 100 parking spaces below ground, making it easy for customers to come enjoy. Raised above street level, the wrap-around deck will be home to 30' patio dining areas and interactive outdoor shopping spaces. Spaces between 996 - 5,500 SF are currently available, or contact us for temporary leasing information.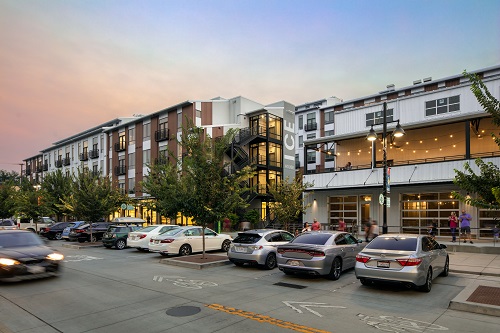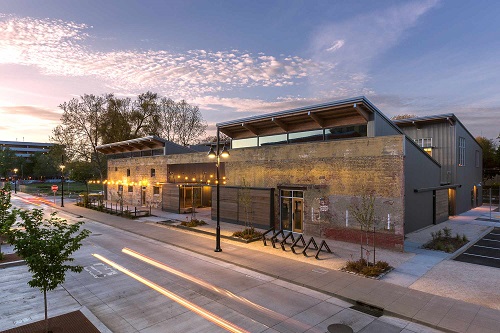 ICE SHED
Block 3 is a courtyard surrounded by three shed-style buildings and is home to Beast + Bounty, Milk Money, Healthy Hounds, All Good, Bishop's Cut/Color and Philz Coffee. A sliding barn door on R Street easily closes off the space for private events, or opens up to welcome customers who are enjoying bocce ball out or a pop-up concert on the stage. We are currently seeking tenants for 840 - 1,678 SF of retail space, either on a permanent or temporary basis.
A VENUE FOR URBAN CULTURE
RETAIL VISION
The Ice Blocks is a three block mixed-use redevelopment project located in the historic R Street Corridor. Sacramento's enterprising spirit and creative culture will be exemplified in Ice's contemporary architecture, public art pieces and thoughtful community gathering space.
Ice Blocks' eclectic mix of shops, restaurants, offices and apartments will rejuvenate this once thriving industrial district.
HISTORIC R STREET
Just a few blocks from Sacramento's central business district, the R Street Corridor could be considered the central cultural district. Boutique retail, affordable housing for artists and one of Esquire Magazine's "25 Coolest Bars in America" all make R Street a destination for urban lifestyle, retail and culture.
A NEW URBAN CUSTOMER
Sacramento's urban housing market has seen an unprecedented wave of interest - the market had the highest year-over-year rental rate growth in the US in May 2016. This has led to over 18,000 residential units are in development within 20 blocks of The Ice Blocks, bringing an affluent and cosmopolitan customer to Ice.
Retail Leasing | Project Branding | Web Design
David Scanlon | Director - Cushman & Wakefield
415.658.3612 | Lic. 01492499 | david.scanlon@cushwake.com